Royal Gate Hotel, a Tarkwa-based hospitality company owned by Medeama Sporting Club's Vice CEO, Mr. Alfred Owusu has today entered into a partnership agreement with Medeama SC effective August 1, 2022.
The deal which is worth GH¢ 20,000 will see Royal Gate Hotel provide the Mauve and Yellow side of Tarkwa with a hundred (100) standard room accommodations over a period of one (1) year; so as to waive off monies the club spends on hosting its guests at hotels.
According to Mr. Owusu, who signed on behave of Royal Gate Hotel, this gesture is part of his Cooperate Social Responsibilities (CSR) to sponsor Medeama Sporting Club officially aside from what he does in private to assist in the success story of the club and this he believes will go a long way to reduce the burden of Medeama SC President, Mr. Moses Armah, as the club aims to improve upon the second position it finished last season.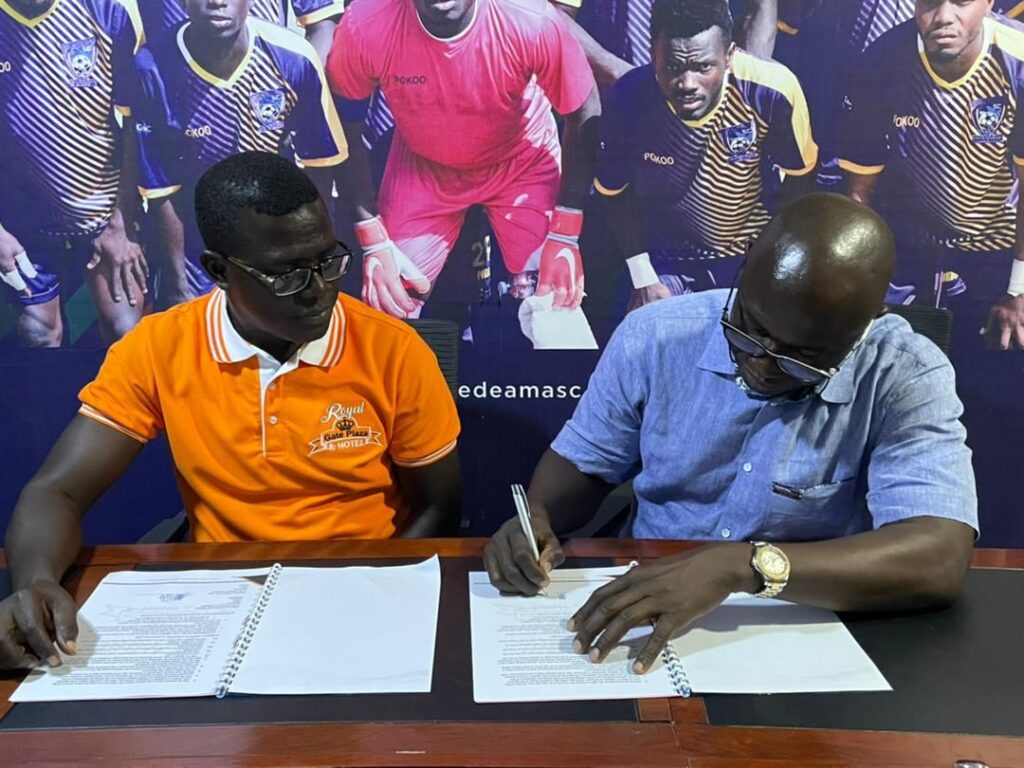 In appreciation of Royal Gate Hotel's sponsorship package to Medeama, Mr. Moses Armah popularly known as Mospacka, after penning his signature for Medeama SC, welcomed the partnership with an assurance of using all platforms available to the club to give Royal Gate Hotel the needed mileage in return for, while calling on other institutions to come on board the moving train to ensure the progress of the club which he has constantly reiterated belongs to the people of Tarkwa.
Watch Video here: https://youtu.be/TTWFrX6PcuA